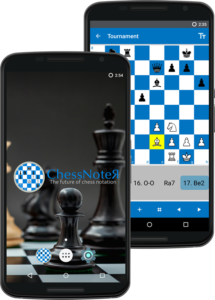 I know we just spammed you yesterday, but I want our readers to be the first in line for this new chess tech, ChessNoter – a new e-Notation device for USCF rated tournaments.
I realize that I may not be in the majority here, so if this topic is of no interest, please disregard.  However, if you're still reading this article, you must be excited to know that there is a new e-scoresheet approved by the USCF!
As soon as I made my return to competitive chess after a nearly 2 decade hiatus, the first things I noticed out of the ordinary, were the devices that kids were using in place of a paper scoresheet.  I did my research and found there were just 3 available.  Plycounter, Monroi, and e-Notate.  They even track your move times for you, so you don't have to!
As a chess coach, I've only been able to review about 20-30% of our kids games because they are rampant with notation errors.  If I can't review games with them, it's a lot more difficult for them to learn from their mistakes.  Knowing that they spent .0002 nanoseconds considering their move before a huge blunder would be valuable information to pass along to them, as well.
Keeping score accurately is no simple task for me, let alone a first-grader new to algebraic notation.  I frequently make mistakes, often costing valuable seconds that I may need later in the game under time pressure.   I was instantly sold on the concept.  However, when I saw the price tag for these devices, I had to do a double-take.  These devices were selling for hundreds of dollars and they looked like technology straight out of the early 1990s!
In spite of all this, after a year of tournament play, I thought it might be a good investment that could really help my game, and I decided to place my order.  So what's the problem?  Well you see, you can't actually buy one.  Yes, that's right.  The only devices that were USCF approved for use are not available for purchase.
Plycounter seems to have had some issue with their latest release when they changed from point-to-point to drag and drop piece placement and got rid of the stylus.  I've been on the waitlist to order one of their devices ever since, with no response from the company to any of my emails checking on availability.  Monroi is completely unresponsive as well, and e-Notate's developer unfortunately passed away.  You can't make this up!
Enter ChessNoter.  A relative newcomer to the e-notation scene.  When I initially researched the company, they weren't USCF certified, so I definitely wasn't going to risk it.  I must admit, I was also a little skeptical after learning the process to purchase their software.  However, when I learned that they were getting their software reviewed by the USCF QA folks, I had to roll the dice anyway.  Here's what I had to do to get one:
Search Amazon or Ebay for a defective Motorola Nexus 6 Click here to search now.  Wait, defective?  What?  It's actually a ingenious idea.  In order to be USCF compliant, ChessNoter has to disable the mobile radio in the phone anyway!  I was able to pick up one that "could not connect to any mobile networks," for around $80.  Just make sure the wireless functionality still works.  You'll need that to receive software updates.
Go to ChessNoter and purchase the software.  It's $19.99 with an offer to save 10% on all future orders.  It's an additional $12.15 for shipping and handling to cover the return of the phone.
Print the receipt and mail it in with your new (used) phone. Priority shipping was $7. They'll replace the Operating System and send it back with your software.  That's it!  Joey from ChessNoter even sent me a personal email asking me to email him with the tracking information so he would be expecting it and be able to return the device to me quickly.
I just received mine back in the mail yesterday, along with the official Facebook news that they had received their approval, December 18th.  Perfect timing, the gamble paid off!  An early Christmas present to help out with chess!
Our oldest son (also a chess player) and I even made an unboxing video.  Note… we've never made a "vlog" before, and it's the first take, so there is much to be desired in terms of production quality film-making.  However, if you're willing to endure a painful video to see what it was like to use the device for the first time, here's a link to the "official" (totally unofficial) unboxing – just fast-forward past the painful parts to get to the good stuff:
Please leave your ChessTech topic suggestions, questions, and comments in the comment section below.